Post by shinester on Apr 15, 2016 20:34:00 GMT 10
The problem I have with all of the other forms of cooking is that you have to have a fuel supply/source and either it's going to run out or you have to do something to obtain it, such as cutting down a tree [by hand if you have ran out of fuel for the chainsaw]. Don't get me wrong, I have a few months of cooking as back up already in the form of LPG, though I was thinking what about microwave.
Looking at my home microwave, it uses
1200W
for a 700W output [microwave energy] so what would I need to run this on solar as a means of cooking? Well we would have to understand how much we use it if it's our only means of cooking is it possible, well clearly it is if we have enough power available but how much do we need?
If we take rice as it's often a preppers staple and yet it needs to be cooked to be edible, a really rough approximation is that we need 3 cups of rice per adult [8700kj]. Of course we're not going to eat just rice but for simplicity lets look at just that. To cook about 6 cups of rice [2 people for a day] takes 24 mins to cook. Hopefully we'll cook it up in one big batch per day to conserve energy as 1 cup takes 9-11 minutes.
So we're talking about 1200W x 24mins =
480Wh
.
If we're in Melbourne, then in Winter our average solar radiation hours are 2.4 [summer is 6.5hrs for comparison] and we'll have some losses in conversion etc, so lets call that 30% and so we'll need at least
480Wh/2.4 + 30% =
260W panel
to cover our daily use of 24mins in the middle of winter. Summer we could have the microwave going for over an hour or we might choose to use other fuel sources in winter, perhaps we have an open fire and cut this down as required. We might not use the microwave every day either, though with the battery rating below we'll want to max 24mins/day. [less is fine!]
We'll want power storage also, as we can't do it with the panel alone, unless you want to get 2000W of panels and wait for a sunny day. So we need to get AGM/Deep Cycle batteries with a suitable capacity. When we look at the energy used it's 480Wh, which on a 12V system is 40Amps and we want to know what the current is that's being drawn as batteries have limits on discharge rates and it also effects how much energy that they can give. [generally the slower the discharge the longer they last].
If we look at the larger batteries say
130Amph new battery
on ebay [$309], we've got 1000CCA [cold crank amps] which is far higher than the 100Amps we need, so good there since we're discharging it fairly heavily, it's usable capacity drops down to about 70Amp hours. This is perhaps a little low for our use as it will discharge below the 50% [down to 43%] which will reduce battery life. It's also not allowing for rainy days, so there might be times when we don't have enough power. If it's daytime we should be making energy with the panel and we'll probably not drain the battery too far and the best way to know is to monitor the battery voltage.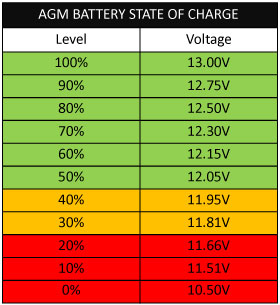 So the 'minimum' system in Melbourne every day [in winter] is
$260 - 260W of panels
$15 - Solar MPPT regulator [more efficient]
$130 - 1500W+ inverter
$309 - 130Amh of batteries. *
$10 - multimeter for voltage [some inverters have them onboard]
Ideally we would bump this up with perhaps 2 of those batteries for
260Amph
of batteries. This is for 2 people for a day in rice, though it's likely you'll not just eat rice [1.2kg!] and perhaps that amount feeds the family with some additional canned foods.
So it's possible to do.
*some second hand batteries are great and go for much less but it's also at a risk and I'd suggest getting a much higher capacity, getting perhaps 300Amh as their 'actual' capacity reduces over time 'even' if they're good. You can use a load tester to test how good they are. You can 'kind of' tell if they're good by what full charge voltage they charge too also, though it's not as reliable.