Post by SA Hunter on Jun 26, 2016 1:51:43 GMT 10
www.abc.net.au/environment/articles/2014/12/30/4150705.htm
AUSTRALIANS MAY PRIDE themselves on their multi-cultural cuisine, but there's one ethnicity that is conspicuously absent from our national tastes. It's our own true Australian flavours, harvested and collected from our own native resources.
Australian native foods have sustained the world's oldest continuous population for tens of thousands of years, but when it comes to newer immigrants chowing down on bush foods, we're still a little reticent. Thankfully, this is starting to change, both within Australia and overseas, says Jude Mayall from The Outback Chef.
"There is certainly a lot more interest and excitement about native foods, it's hitting the media a lot more, and people are starting to think a bit more about what is growing naturally in this country and how they can use it," says Mayall, also spokesperson for theAustralian Native Food Industry.
This buzz is spreading to growers, and more farmers are now trying their hand at growing native foods such as quandong, finger lime, and lemon myrtle. An Australian crop lends a hand in maintaining Australia's botanical diversity and reduces the 'food miles' your dinner has travelled to your plate.
"It's still a very young industry, but we're trying to do as much as we can as far as getting scientific research done, and we also deal a lot with people in remote areas and communities, and working with our indigenous advisory group," Mayall says.
South Australian Native Food Association president Ben Lethbridge says the popularity of native foods seems to be fairly cyclic.
"It was very popular in the 1990s, then it waned a bit after the Olympics and I think it's coming back again," says Lethbridge, also a quandong researcher. He says native foods does suffer somewhat from a 'cultural cringe' factor, but this can be overcome with appropriate marketing and education to bring native foods to the front of mind.
The scale of production can also be an issue, Lethbridge says, as producers need to make sure they can increase their output to meet market demands. This might not always be possible with the more elusive native foods, such as the Tasmania snowberry.
But whatever the challenges, Mayall says Australian native foods are a fundamental part of our heritage and should be part of our identity.
"For the indigenous people of this country, native food has huge spiritual connections and as a country we need to honour those connections and embrace that," she says.
"It's important and valid to the way that we live, and as a people, it completes the full circle."
Here's the experts' pick of the top ten Australian native foods:
Kangaroo

It may be on our national coat of arms, but the kangaroo is also slowly taking pride of place on our dinner plates. Kangaroo meat is now available in every major supermarket in the country, and not just as pet food. Its extremely low fat content — around two per cent — high protein content, and high levels of omega-6-fatty acids make it popular with health-conscious carnivores, and the relatively small environmental footprint of kangaroo compared to other red meat sources appeal to the environmentally-conscious consumer.
Finger lime

Finger lime is nature's answer to popping candy. With their elongated form and delicate pink beads inside, finger limes are famous for the way the citrusy vesicles burst with flavour inside your mouth, making them a spectacular accompaniment to just about any dish, but especially seafood. Demand for the fruit has skyrocketed both in Australia and overseas, and they are used in a huge range of dishes. Even the early settlers took advantage of them as thirst-quenchers.
Warrigal greens

While these might not be quite so popular among kids with an aversion to 'green stuff', Warrigal greens and their high antioxidant content were a lifesaver for early settlers, and were even eaten on board the Endeavour as it sailed out of Botany Bay. This native spinach is hardier than the English version, and some might say better tasting too. There's one caveat: they must be blanched in boiling water for 10 to 15 seconds before eating to get rid of potentially harmful oxalates.
Lemon myrtle

If there's one unique Australian flavour that has made its mark internationally, it's lemon myrtle. Famed for its sweet, citrusy aroma and taste — it's even more 'lemony' than lemon oil — the lemon myrtle tree grows all along the Queensland coast. Lemon myrtle oil is found in a wide variety of products ranging from soaps and shampoos, to lip balm and air-fresheners, while the leaves can be used to add a fresh lemon flavour to any dish.
Quandongs

The famous upside-down tarte Tatin is traditionally made with apples, but South Australian quandong researcher Ben Lethbridge loves nothing more than whipping up a quandong tarte Tatin. This so-called 'native peach', which grows in Australia's semi-arid regions, was prized by Indigenous Australians not only for its tart flesh but also the medicinal properties of its leaves and kernel.
Bush tomato
Australia's bush tomato has long been a staple food for desert-dwelling Indigenous communities, who would often dry the small red fruit so they could be stored. The bush tomato, which comes from the same family as non-native tomatoes, potatoes and capsicums, grows in Australia's arid desert regions and is already being developed as a commercial crop by many Indigenous groups.
Snowberries

The ethereal snowberry, found growing in the chilly wet forests and sub-alpine regions of Tasmania, looks like it has fallen straight out of the pages of a fairy tale, with its snow-white plump form dotted with a blood-red tip. The snowberry's crunchy, sweet iciness has captured the heart of one of Australia's top chefs, Peter Gilmore of Quay restaurant in Sydney, who incorporates the berry into his magical desserts.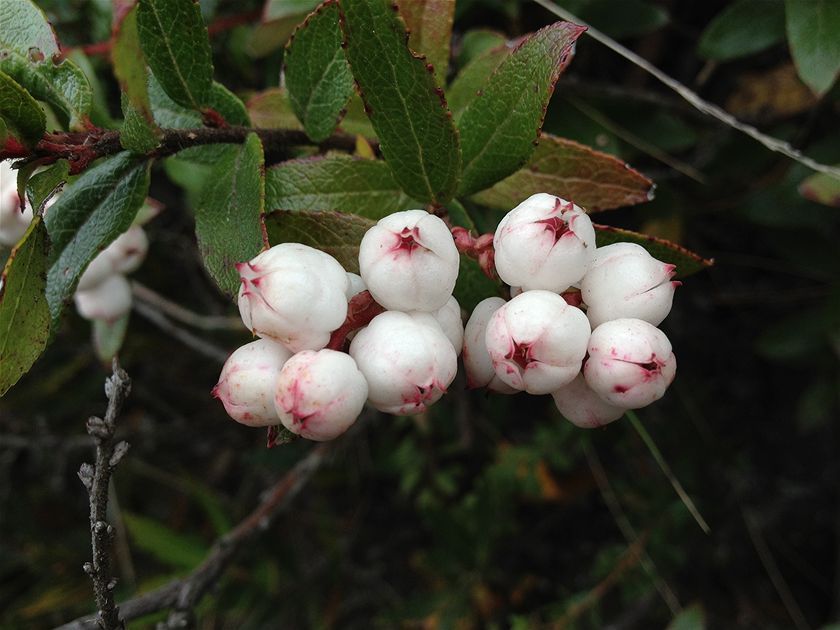 Sea parsley

Also known as 'sea celery', this coastal native caught the eye of Captain Cook and his fellow voyagers, who used the wild herb to flavour their soups and stews. It's closely related to European parsley, both in appearance, flavour, and genetics, although unlike its upright cousin, the Australian native version grows prostrate, trailing over rocky ledges and sand along the tide line.
Macadamias

No list of Australian native foods is complete without mention of the crunchy, buttery macadamia. Its rock-hard outer casing may challenge even the hardiest nut-cracker, but it's worth the effort. Macadamia oil is prized for its healthiness, its high smoke point, and sweet flavour, while the nut is delicious whether eaten raw, salted, roasted and ground into nut butter or best still, encased in dark chocolate.
Samphire

Shakespeare wrote in King Lear that samphire gatherers had a "dreadful trade", but he might have had second thoughts had he known how healthy and delicious this native succulent is. Found along the southern shores of Australia, and on many other coastlines around the world, samphire — also known as sea asparagus — bursts with natural saltiness and a crisp, crunchy texture that has earned it a place in many top Australian restaurants.